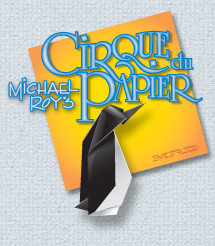 This page is dedicated to the answering of burning questions about Strolling, Interactive & Close-up Origami & Juggling Artist/Entertainer, Michael Roy Baldridge, and his origami. [Burning? hmm, maybe dangerous word choice for a paper based art form.] Although every question you could ever have is probably answered right here, if your infrequently asked question is not, then by all means please send us an email michaelroy@earthlink.net
and we will respond in a timely manner. Remember there are no stupid questions . . . just people who are not quite as bright, creative, and hot as you.

How long have you been doing this?

Since one o'clock. [Oh, wait, that's my answer at festivals.] Actually, I discovered origami as an art form probably around 1983.

How do you make all those origami designs? How do you remember all those folds?

That's two questions. The second will cost you extra. (1) Very well, thank you. (2) Practice, practice, and of course, practice.

Do you perform at parties? How much do you charge for a live appearance as a close up interactive origami entertainer?

Hey! That's two questions . . . oh, I give up. Yes, I do parties. Go to Clients & Venues to see that I work in a wide variety of settings. Regarding cost: Our criterion for formulating cost: 1.High Level Expertise (years of ongoing training, and artistic merit) 2.Broad Repertoire of Beautiful Origami 3.Popularity 4.Uniqueness (very rare indeed, search the web if you don't believe me) 5.Travel Distance 6.Appearance-time and Load-in & Set-up / Tear-down & Load-out 7.High-end Entertainment Price Comparison 8.Quality Presentation 9.Client's budget constraints; And of course, last but not least, 10.My charm, good looks and humble personality. For cost quote and availability please INQUIRE.
Did you fold all those origami models on your MicRo Gallery [show display] and do you do all your own folding?

Yes. However, many of the origami designs I fold were developed by other origami artists. Some are the classics from Japan -- origami designs which have been passed down from generation to generation -- and a few are designed by me. As a folder, I am similar to a musician who interprets the composer's (origami designer's) composition. I give an artistic interpretation to the design and sometimes add my own embellishments. Go to my

LINKS

page to link to some of the composers' sites. There are also many other links of interest there.

My friends and I have tried the origami books and instruction sheets and it just ain't happening (well, except for Darrell, but he's geeky!). I tried one of those cranes once . . . talk about unintended consequences! Do you teach origami workshops?

Yes. If you are interested in hosting a hands-on origami class at your college, school, recreation center, church, party, day- camp, summer camp, retreat, etc. just contact me

michaelroy@earthlink.net

(hey, bring Darrell along, he and I can trade origami moves, play Dueling Creases, see who can take the most paper cuts, have a race and see who's creased lightning. . . ).

If I hire you for a close-up entertainment engagement will you still teach my guests how to make origami?

Yes, in close-up settings, I can teach a piece from my repertoire of simple basic fun designs (instruction in advanced origami is available, but rarely needed). At private parties a simple lesson taught to everyone is included in the package. If the setting is larger, (e.g. a festival, etc.) then just let me know you want the casual drop-by origami lessons as part of the package. There is no extra charge. However, be mindful of the fact that it will diminish the time spent on creating keepsakes for guests, thus lowering the number of pieces I will be able to produce at the event.
We have a pretty big event so how many of those exquisite origami pieces can you produce per hour?

Actually that's not a frequently asked question, but I know it can be a concern if you expect a large attendance. I typically fold 15 - 25 origami art pieces per hour (similar to the pace of a good caricature artist or a balloon artist, or face painter). Speaking of such, you can increase the output of artistic mementos by acquiring one of "Michael Roy's Bundles of Fun", where we team up with another artist/entertainer to provide a variety of Party Art. For details check out our site:

StrollingEntertainment.com

. For pricing details just shoot me off an email: m

ichaelroy@earthlink.net

or call 330-678-3362.

EDITOR'S NOTE: Not every guest desires a keepsake, but they all appreciate the "Wow!" factor of Folder Fantastique, Michael Roy. With his expertise in the oriental art of origami, developed through thousands of hours over many years of study, training, and practice; and embellished with theatrical, magical, and circus arts his magical and manic manipulations transform the square to extraordinaire. Michael Roy brings a fine and fun flair for focus on flying phalanges, folding flat into fantastic, creating exquisite, intricate, art pieces right before the eyes of your astonished guests. In addition he keeps crowds captivated with his self-standing MicRo Gallery (an attraction in itself) which serves as shorthand for introducing Michael Roy's work to the milling crowds and gives guests suggestions of what folded-art keepsakes he can create for them. Working with the "Gallery" also enables Michael Roy to engage individuals in interactive games and puzzles as a way to "win" some of the more advanced pieces.
Hey Michael Roy, Can you fold custom paper with our event printed on each sheet? We want those exquisite pieces and figurines that you create to be extra cool memory keepsakes for our guests.

Yes. We can print whatever you like on the paper, event title, person-of-honor's name, company logo, whatever. This has been done a number of times at events with Cirque du Papier. Just give us plenty of lead time to produce the paper and to have it available to do some part-folds, play with the paper, etc.

Contact

us for details. Also keep in mind that if you are a corporation or are putting on a fund raiser gala, I can continue using the paper at subsuquent shows providing you with additional advertisement and brand awareness.

Isn't this all a little strange? What you do that is. I have never seen an origami entertainer before! Never even ever heard of one! How do I know I am getting my money's worth of entertainment and artistry?

Yes, we are rare. In the USA there is me and rumors of perhaps a couple of others. In England two or three and a couple in Europe. To say the least, Origami Entertainers are very rare indeed, just like diamonds with perfect clarity, unusual color, and a well crafted cut. Oh, but I know what you are thinking: "Wasn't Michael Roy Baldridge born and raised in the hills of Eastern Kentucky, i.e coal country?" OK, perhaps I am closer to a piece of coal than a rare jewel. And I will fold under pressure, but in this case, not a bad thing. Look at it this way: You don't have to wait several thousand years and pay millions to hire me. I am affordable right now, and adorable . . . OK, at least affordable. And if you are still concerned with getting your money's worth of sparkling entertainment, please check out our

testimonials

page and ask us for references.
Michael Roy, I have seen your Cirque du Papier close-up. Definitely a thrill. However, I notice you sometimes pull out a partly folded piece of paper. Don't you make all your pieces from a flat smooth sheet of paper much to the astonishment and delight of event guests?

Aw Shucks, your too kind. And you're also too observant, but I am glad you ask. I could make each piece from scratch at every performance. However, I like making a wide variety of really cool pieces, many of which take a bit of time to complete due to complexity; anywhere from 15 minutes to 60 minutes (even after I have perfected the execution of the design!). If I narrowed my repertoire to only simple pieces it would not only bore me, but would be "eh" for the many adoring fans of origami magic. Yet, of course no one wants to wait forever to acquire one of these really cool keepsakes (see the above question). Thus along with my huge inventory of brightly colored untouched squares of paper, I bring what I call "part-folds"; mixing it up with pieces executed from virgin paper as well as completing these partly folded pieces. It keeps the whole process humming along, giving more guests a chance at their very own keepsake. Speaking of chance, the most complex designs, by nature, have many more layers which means the sculpture will not hold its shape well without a little wet-folding (and since most folks are a bit adverse to watching paper dry . . .I make my most complex pieces ahead of time and challenge guests to puzzles, riddles, and games as a way to "win" their very own prized possession!).

Speaking of custom, we are having a Bat Mitzvah and are interested in hiring you to entertain our guests. Would you be willing to make a special piece ahead of time for our daughter that can be presented to her at this special occasion?

Yes, this can be done at any engagement for the person of honor. Just give me a heads up when you book an appearance and let me know what figurine, flower, or object in my portfolio you would like crafted and what color of paper, etc.
Hey, are you that Michael Roy Baldridge, Juggler Extraordinaire I saw in a one-man stage production? Do you still juggle and balance things? And do you still do the stage production?

OK, that was three questions, now you're really getting irritating. Yes I am, yes I do, and no I don't. Juggling can be part of a package deal when you hire me as a strolling origami entertainer for an engagement. But if you want a juggler sans the origami (sans, for you who had your head on the desk that day, means without), I cannot accommodate you. At this time I am not doing stage work, only interactive, strolling, and close-up entertainment with an emphasis on the wonder and amazement of origami. If you really need a stand up presention for a modest sized group, consider one of my origami workshops which does include a brief stand up presention.

Can you make my Auntie one of Michael Roy's exquisite origami sculptures?

Poof! Your auntie is now one of Michael Roy's exquisite origami sculptures. (OK, I know, it's like my sons tell me, "Dad, your publicity says you're a quick wit; it does not say your wit is funny.") Anyway to answer your question: Yes, you can order origami art pieces. However, I am not the copyright owner of many of the pieces. If you want one of the classics "in the public domain" I can fold any of them for you. Example: Crane, Frog, Lily, Etc. If you are interested in any of the copyrighted pieces I can direct you to the designer. Keep in mind that if you are ordering bulk for a wedding or special event I do need some lead time (i.e. order early! preferably 6 months). Phssssssst, if you happen to show up at one of my appearances I make all of the models on the spot and give away many of these models (one per person), no cost to you. So, you can get your auntie a thrilling piece of art for FREE! Or better yet, bring her to the event too and you both can witness the production of an origami sculpture right before your eyes and you each can take one home to cherish for years to come!
OK, you keep pushing these live performances, so I'll take the bait. Where is your home base and how far will you travel for a gig?

I live in Kent, Ohio. I maintain a day job as a graphic designer and illustrator so I don't currently tour extensively. Most of my engagements are within a three hour drive from Kent, Ohio (e.g. Cleveland, OH, Akron, OH, Canton, OH, Youngstown, OH, Toledo, OH, Columbus, OH, Pittsburgh, PA, Erie, PA, Northern WV and surrounding regions). If you have an event at a farther distance I am still open to the possibility. And don't let my day job interfere with your plans. As long as you book far enough in advance I make arrangements accordingly. Just give me a call 330-678-3362 or

send an inquiry

.

Do you book your own engagements or do you go through an agency?

Yes. I book my own engagements. Yes. I use agencies. Yes. That was two questions. Yes. I gave you one answer. I am on the roster of a number of Entertainment, Artist, and Event Planners, so I am occasionally booked through their services. Booking

Cirque du Papier

is straight forward and easy. Just simply

send an inquiry

. Or, if you already have an events planner, agency, or producer that you regularly use, then just have them get in touch with me and we'll hammer out the details of making that next event of yours the best ever (since I will be there). You won't be disappointed. And if you are? Hey, it's only entertainment! Or, better yet, consider it "Performance Art" (you know, that stuff where the performance artist smears peanut butter all over his body and then recites the Iliad in hip hop while standing on his head . . . although, hmm maybe . . . not a bad idea, add a little paper folding . . . .

How far in advance should I book an engagement with you?

Typically, 3 to 6 months or more is a safe amount of time. However, occasionally I still have open dates within a shorter time span. So call or write me anytime. You can find out my current schedule by going to my

SCHEDULE

page.
Since you are an interactive, strolling and close-up entertainer & artist it must be easy to accommodate your technical needs (or are you one of those pain-in-the-dairy-air "artistes")?

I am happy you asked [boy was that a spontaneous out-a-the-blue question!]. Yes, it is easy to accommodate my technical needs. Generally all I need is floor space (a total of approximately 10 feet by 10 feet) and approximately 60 minutes for load-in and set-up and 60 minutes for tear-down and load-out. This will accommodate my MicRo Gallery, Origami & Puzzle Activity Station, and room for the audience. In other words I am more or less self-contained. In some settings I do not use the MicRo Gallery at all. When you book a

Cirque du Papier

engagement go directly to my

Book A Gig

page. There are a number of self-explanatory thumbnails that will allow you to download an Agreement Form, Promo Materials, and our

Tech Rider

.

Are you strictly a close-up, strolling, atmosphere, interactive (and the like) entertainer/artist or do you also do stand-up and stage presentations?

Yes, I am primarily a close-up and strolling entertainer. Origami lends itself nicely to the intimacy of a "right before your eyes!" kind of performance. There is something to be said for getting to view the performance from the "front row" and getting to interact directly with the artist, and see "how he does it" (though, like watching a close-up magician, you will still be befuddled). The intricacies of the art are not easily appreciated in a stage setting. However, that being said, after years of preparation, I now offer a stand-up/workshop presentation for modest sized gatherings. The program begins with a 30 minute fun and funny presentation of the magic of the folded square (as well as some surprise juggling and feats of balance; ssshhh don't tell the audience ahead of time!), and morphs into a 60 minute hands-on origami workshop. Total program time is 90 minutes. Abbreviated versions are also available. Contact me for details. You can download my

Packages

with a list of the specifics.
Hey Michael, your publicity materials refer to you as an "award winning artist and entertainer". So, tell me, what's this award you won?

First of all, that is not a frequently asked question, but since you asked, I have been awarded many times . . . OK, maybe three or four . . . OK, I can think of one . . . maybe two . . . Oh! Wait, wait! It's coming back to me. Just a few years ago (1998 to be exact) I received a letter from Who's Who Among American High School Students "Honoring Tomorrow's Leaders Today" . Here's how the letter started:

Dear Michael,
Congratulations. I am pleased to inform you that because of your fine academic achievements, you have been nominated for honorary award recognition and to have your biography published in WHO'S WHO AMONG AMERICA'S HIGH SCHOOL STUDENTS, 1997-98.

And it went on from there. Of course I didn't take them up on the honor seeing as how I am a rather modest and humble boy from Eastern Kentucky. OK, so it was a low point in my career and I didn't have the funds, and besides it came a few years after the fact (I graduated Class of "73 from Johnson Central High School in Paintsville, Kentucky, 56th in grade standing). Hey, wait, I did win the Johnson Central High School Talent Show in 1973 and second place in '71. And I did win first place in a talent show in Escondido, California at a shopping center (it came with a $250 prize, which meant my landlord was paid on time that month). All seriousness aside though, I also received an award for my graphic work: Indiana Bankers Association & The American Bankers Association Marketing Network Mega Conference - Maxi Award for Best Outdoor Advertisement (which, I think, should get the award for the longest award title). And I did win a scholarship to the CIA, otherwise know as the Cleveland Institute of Art. However, due to life circumstances at the time I did not take them up on it. Hey, I think that does it. I can't remember any other awards off the top of my head, but if I do, you'll be the first to know.
What sort of paper do you use to make those exquisitely crafted origami art pieces at your shows?

I use a wide variety of papers in many colors. My decision of which to use is based on finding the most appropriate paper type for each model that creates the best end result. The criteria includes such factors as: the simpler the design the thicker the paper can be in ratio to the width and height. I use traditional, commercially available origami paper imported from Japan, which has color and/or a pattern printed on one side and is white on the other. I use memory-book (scrapbooking) paper which is similar, but is usually larger (12" X 12") and a heavier weight. I use large art paper (e.g. watercolor, pastels). I find that even photocopy/inkjet paper works very well for certain models. I also use a variety of paper odds-and-ends randomly discovered here and there and especially at an area discount paper store (

Hollos Paper Craft

in Brunswick, Ohio). And of course, in the spirit of "

going green

", I have always cut squares, from my old Rand McNally Road Atlases (from my days of touring the world) which make some really cool designs. I also use colorful printed ads, otherwise known as "junk mail". I even rescue papers from my graphic design day job before they hit the recycle bins, and old blue prints from a neighboring architecture firm. In other words, it is the most fuel and resource efficient "recycled" paper. It is simply reused paper (recycling old school). The characteristic that all these papers have in common is they are all able to withstand repeated folding and unfolding without tearing (up to a point).

What is the most popular of those exquisitely crafted origami art pieces you fold at your interactive and strolling shows?

I have not found any one to be most popular. A person's choice seem to depend on the subject matter and/or the individual's personal preference of aesthetic. In other words, if they are really into elephants then they will ask for an elephant. If they are really into buzzards then they will ask for a buzzard. If they are really into ostriches then they will ask . . . well you have the idea. Sometimes someone will request something and then a different model will capture their attention (and apparently, their affection) and they will change the request.
Alright, then, what is your favorite?

Well, currently I would have to say the humming bird (a Michael LaFosse design). It is a challenge and fun to fold, with beautiful results. And besides, I'm really into humming birds (see above answer). I don't think the image I have on this site does the model justice. You have to be there. I usually make it approximately life size, which of course, adds to the challenge. Fingers need to be nimble and acrobatic. I call folding designs of this complexity and diminutive size: "cirque du papier".

What is the hardest design you fold?

OK, my turn. You gave me one question and I will give you two answers. (1) The one I have not practiced lately is usually the most difficult. (2) The most complex design I fold is the snowball. It has the most creases and is extremely complex. Yet, I can fold it so fast it's like creased lightning. And if you unfold two of the models you will see that the crease pattern is much like snowflakes, no two are alike. A wonderful mystery to behold!

We are putting together an event with a Water/Pool Party theme. I know your entertainment would fit into an oriental themed event. But do you do other sorts of theme parties and events?

I am glad you asked. Yes, my work fits theme events very well. Since I have a diverse portfolio of origami art, I can execute many folding pieces appropriate to your party's theme. Check out my

THEME EVENTS

page for more details. Then give us a call or send an email and I will set up a plan to provide pertinent paper party "pets" and favors fitting your fun, festive event! Even when you don't have a specific theme for your special occasion, keep in mind that due to the "magical" and colorful character of origami, it's already a natural fit where truly fun entertainment is the only theme you need.
Hey, Michael Roy! I have a fundraiser coming up and am trying to recruit some talent on the cheap, or better yet, free. Do you do exposure gigs and freebies? This is for a really good cause. We are expecting lots of people, many are influential and could be good prospects for getting you gigs down the road! And we'll give you a donation receipt for a contribution deduction on your taxes!

Let me answer that with some thoughts and observations on behalf of variety artists everywhere, who, by the way, get asked numerous times each year to donate time and expertise to good causes. And an explanation of my own policy and practice.

Policy & Practice: To fit into your budget constraints, I do offer discount prices, as much as possible, for non-profits and charity events. Regarding "exposure": Generally I do not do any gig just for the exposure. I have not found it to be a cost effective way of marketing my art and entertainment. (And as one actor friend of mine would say, "You know, people die of exposure.") As a private citizen I do donate funds to charities of my choosing.

Suggestions for making Michael Roy fit your budget: First, please keep in mind that currrently, under the IRS tax code, there is no tax "write off" for professionals (including performers) to donate their time and expertise to non-profits (consult your tax accountant for details). Second, there are corporations and individuals of means who would be happy to donate to your organization. Financial donations can be written off as a charitable donation. So if you include entertainment into the budget of your event, a donor can cover the cost and get the tax savings. You get the entertainment you want and everyone's a happy camper. Another idea to offset the cost of my appearance: If it is a carnival fund raiser, or the like, with folks buying tickets to play the games, etc. I can "charge" tickets in exchange for the cool origami keepsakes I create for your revelers.
Well, thank you for that; It does answer my basic question, but you did not tell me your thoughts and observations about the general state of variety artists everywhere. I am eager to hear this!

Oh, yes, I am sure you are. Thanks for the reminder. Here goes:
Thoughts & Observations: As mentioned above, entertainers and artists, by the nature of their profession, are asked to donate time and expertise to a large number of good causes and charities throughout the year. When you see the Bonos of the world doing the pro bonos and the good deeds, they should be applauded for their efforts. However, keep in mind that in the entertainment and arts professions, the rock stars, movie actors, and other media celebrities are only the tip of the iceberg of talented working professionals. Most of the folks in "show business", though quite gifted, are, none the less, the underwater part of that giant berg and would be seriously "under water", economically if they gave away their work to everyone who asked them throughout the year. A variety artist sells time,and expertise as a live entertainer without the benefits of a mega salary or contract from recordings or appearing on TV, in movies, etc. And when asked to donate an appearance at a fund raiser, it may be (and usually is) during a prime time to create income for their household. Let's put it another way. If you asked a "mom & pop" restaurant to donate their facility for a good cause, fund raiser during Mothers Day luncheon hours, they would probably give you some pretty funny looks.That being said, I also know that countless times "creative types" as well as "just folks" will give of their time and resources to help out their fellow humans without any applause or even notice, and often not from a great abundance.
OK, and finally, what in God's heaven got you interested in origami; or better yet, how did you learn?

You never give up on sneaking that extra question in do you? You're good! I didn't acquire an interest in origami from seeing anything in God's heaven (as far as I know). But I do think He (i.e. God) finds origami to be really cool, even cooler than the internet. I believe my interest in the art form stems from my temperament and gifts. I have always enjoyed puzzles, visual art, working with my hands, the art of magic, and novelty - especially 3D stuff - and I think origami blends all of these beautifully. How I learned was primarily from books and instruction sheets. I did learn one design from a waitress at a Chinese buffet and a couple of designs from video, but the vast bulk of my learning has been, and continues to be, from books.

Hey, just one more, pleeeaasse ! Do you ever get paper cuts?

Sigh. OK, just one. Never have. (At least not while doing origami. I make sure I stay away from the paper mache. . .te.)